Your Portal to watch TV online, over 1000 free online TV channels listed.
Online TV (or Internet TV) is TV distributed via the internet. Online TV allows viewers to choose the show they want to watch from a library of shows. To watch tv online, please choose a channel from the left column first.
Required software for watch tv online: Realplayer, Media Player
Or you can use our Free Online TV software: Mint Online TV v2.2
Mint Online TV is a FREE software for browsing and watching over 1000 online TV channels from all over the world, wherever you are, only having a PC with Internet access. Mint Online TV is easy to use and 100% FREE, you don't need to buy any TV tuner card, computer device, nor pay for a subscription or monthly fees, all you need is keep your PC connecting with effective Internet. With Mint Online TV, you will be able to watch tv online: movies, series, educational, sports, music, cartoons, news from all over the world easily.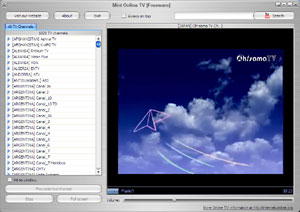 Screenshot of Mint Online TV
Download now
(It's 100% Free software)
Filesize:1.1Mb
Version: 2.2
Mint Online TV is a 100% FREE and 100% CLEAN, it does not contain any spyware, viruses, trojans and backdoors.
User review on Download.com:
"Great program !!!" by yugo70
Pros: This is great program , quality picture & sound . Simple to use & load of fun .Keep up with excellent work.
No subscriptions or Monthly Fees, No Hardware to install, No Bandwidth Limits, You Get Over 3,500 Channels, You Get Auto Channel Updates:
You can add this online tv site to your favorites/bookmarks by pressing "Ctrl + D" now on your keyboard or use the button below.